How the awards work:

The awards are divided into three categories:
Product Awards, Readers' Awards, and Vapouround Awards.
The Product Awards will be decided by independent judges, the Readers' Awards will be decided by an online public vote and the Vapouround Awards will be judged by us.
From candy to traditional custards and pastries, this is the category for the more indulgent e-liquid profiles.
A brand that has an exceptional line of nicotine salts with great flavours is eligible for this category
The category for straight fruit blends, ranging from single flavour profiles to complex multi-layered combinations.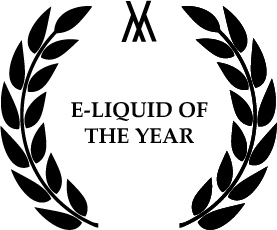 One of the most coveted awards, any e-liquid that is available on the market is eligible for this category.  
The public will nominate their favourite brands for a short time before all nominations are shortlisted.
The public will then vote again to decide the overall winners.
FINAL VOTING CLOSES: May 6 (12PM, BST)
An award that highlights newer companies that have substantially impacted the industry over the past year. 
Now more than ever, it's important that branding is both effective and responsible. This award recognises companies that have achieved this.
Vape shops are the beating heart of our industry. This award is an opportunity for us to show our appreciation for their services. 
The online side of the industry has never been more vital. This award recognises the increasingly important role those online retailers play.
Reviewers work hard to keep consumers and businesses informed on the latest products. This award shows our appreciation for their efforts. 
Vaping needs passionate advocates and educators. This award honours those who go above and beyond to fight for our right to vape.  
The Vapouround Awards will be judged by us. Please submit a short presentation/video explaining why you should be nominated for any of the below categories.
Email: awards@vapouround.co.uk
A prestigious award recognising a company that has maintained a level of excellence across as aspects of their brand, including the products themselves, their branding and marketing, their online presence and their customer service.
This award honours a brand or individual without whom the industry would not be where it is today.
This award recognises a product, e-liquid, or vaping innovation which is regarded as a game-changer for the industry.